)
United Kingdom and the world
---
Amble, Northumberland, England
---
Royal Air Force Marine Branch
29 September 1969


| | | |
| --- | --- | --- |
| Royal Air Force | | Royal Air Force Marine Branch |
Royal Air Force Pinnace 1386
lost at Amble on the 29th September 1969

Crew
Skipper Fl. Lt. K. J. G. Bell (Lost)
Coxswain Sgt. D. Coutts
Fitter Sgt. R. Moore
MBC. SAC. C. Chase
MBC. SAC. W. Traynor
MBC. LAC. D. Ashton
W/Op. Cpl. D. E. Ivil (Lost)
W/Op. SAC. G. Denson (Lost)

Twas not the spite of mortal men who took
their lives away, but the deadly pull of the
Pan Bush shoal on the cruel September day.

Without the selfless bravery of the Amble lifeboat crews
202 Squadron RAF Acklington, local fishermen and
Royal Navy divers the loss of life would have been far greater.

Presented to the people of Amble by the members of
the RAF Marine Branch, A. S. R. & M. C. S. club members
in memory of their friends and comrades lost that day
and all those who sailed from this port never to return.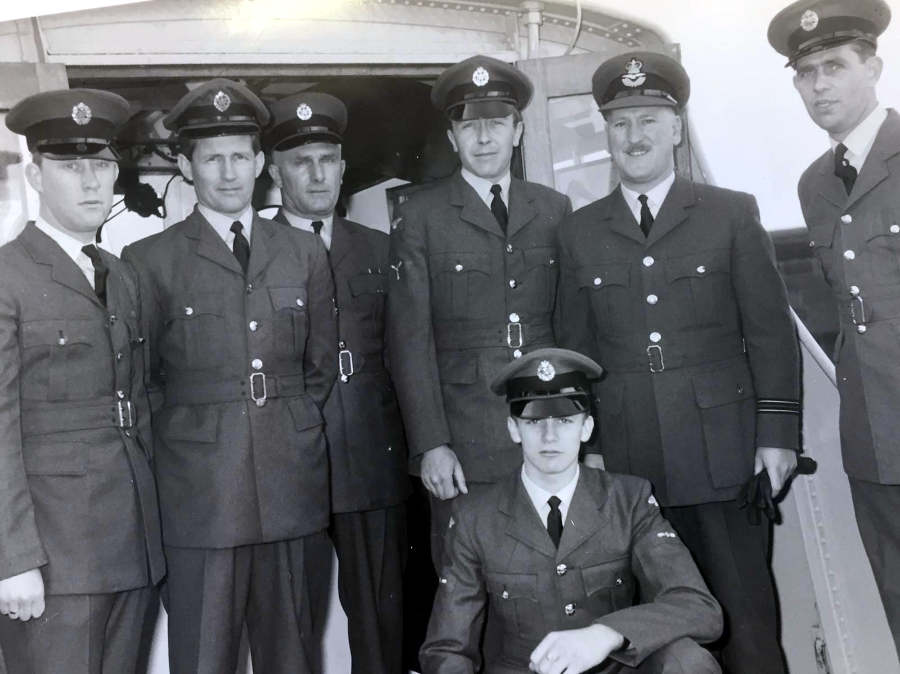 The Pinnacle was overwhelmed by heavy seas on 29 September 1969 and capsized while trying to enter Amble harbour. It had steamed down the coast from Broughty Ferry in heavy swell conditions to carry out exercises with the helicopters based at RAF Acklington that evening.
Three men were lost:

Kenneth James Gordon Bell (second on the right) was born on 16 May 1938 in Dundee, Angus, Scotland. His parents were David and Margaret Bell. He was married to Katherine ??? in Dundee, Angus, Scotland on 08 April 1961, His death was registered in Northumberland during the fourth quarter of 1969.

D. E. Ivil

G. Denson
---
This page is dedicated to the 10 million victims of World War I and 60 million victims of World War II.
We should always remember the immense grief and loss each war brought to the world.
---
Click the pictures for a larger size.
Use your backward button of your browser to come back to this page.

Thank you.
© Lost Ancestors 2021