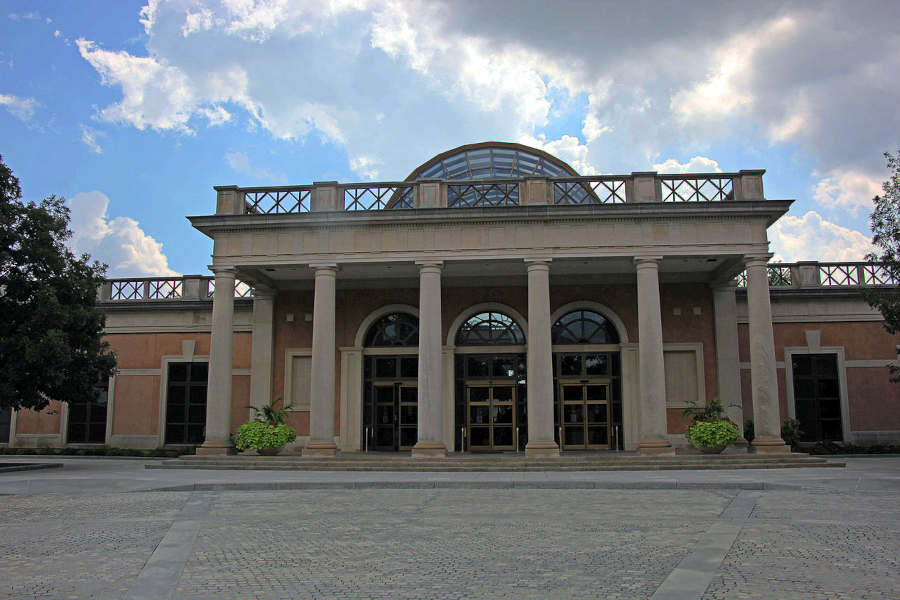 Entrance and visitors center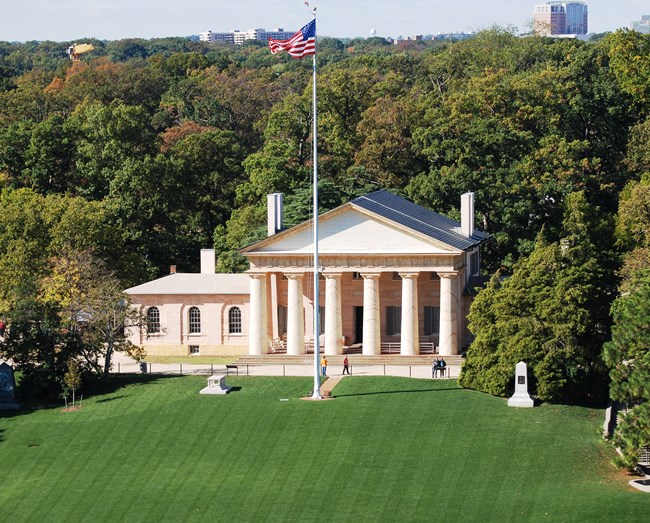 Arlington house (Gen. Lee Memorial)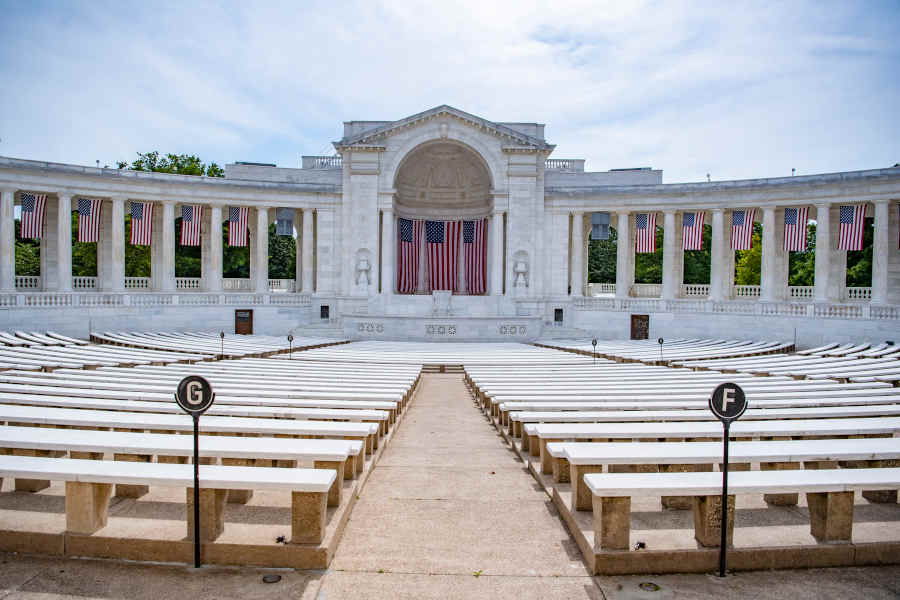 Memorial Amphitheater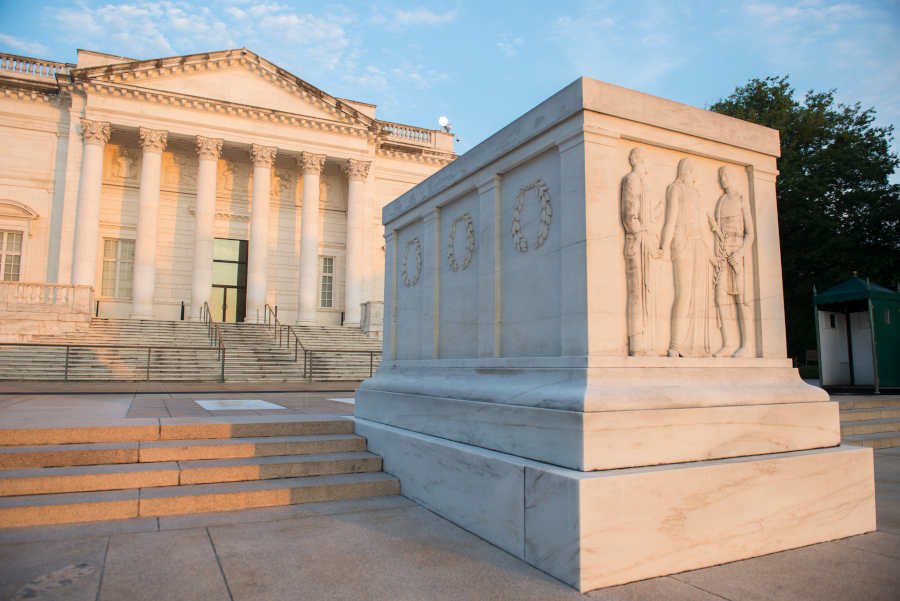 Tomb of the unknown soldier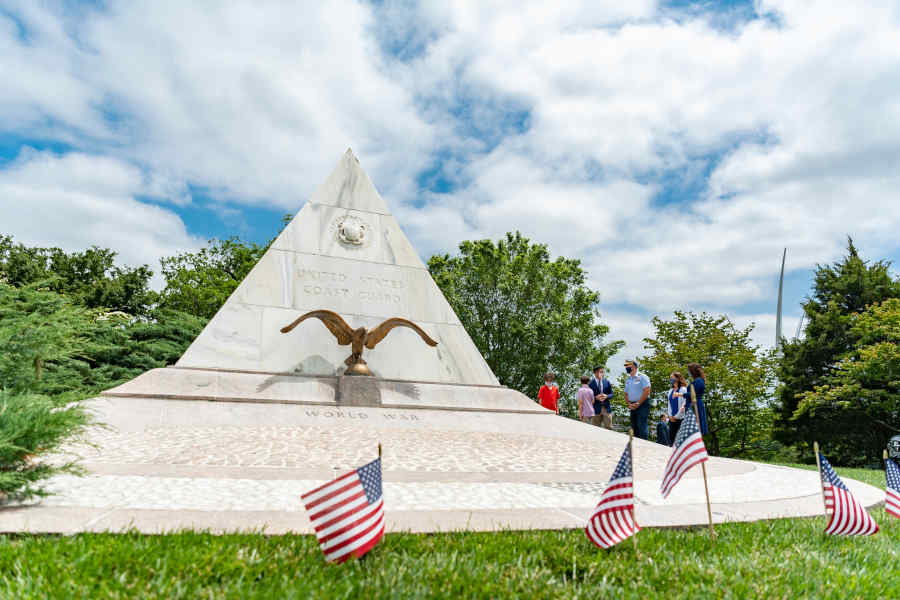 Cost Guard Memorial
Arlington Estate was established by George Washington's adopted grandson, George Washington Parke Custis, to be a living memorial to the first president. Custis's daughter, Mary, married U.S. Army 1st Lieutenant Robert E. Lee in 1831. When he died, Custis left the estate to his daughter Mary Custis Lee for the duration of her life, and upon her death, her eldest son would inherit the property. Robert E. Lee served as the executor of his father-in-law's will and never owned the property.
After the Lees abandoned the property at the start of the Civil War, the U.S. Army seized Arlington Estate on the morning of May 24, 1861 to defend Washington, D.C. From the property's heights, rifled artillery could range every federal building in the nation's capital. The estate was seized not to punish the Custis-Lee family, but rather for its strategic value. Three forts were built on the property during the Civil War: Fort Cass/Rosslyn, Fort Whipple/Fort Myer and Fort McPherson (currently Section 11 of the cemetery). Beginning in June 1863, a large Freedman's Village, established for freed and escaped slaves, was established in what today are Sections 3, 4, 8, 18 and 20.
On May 13, 1864, the first military burial was conducted for Private William Christman. Brigadier General Montgomery Meigs, Quartermaster General of the U.S. Army, who was responsible for the burial of soldiers, ordered Arlington Estate used for a cemetery. The existing D.C.-area national cemeteries (Soldiers' Home and Alexandria National Cemeteries) were running out of space - both closed on the day that burials began at Arlington.
Arlington officially became a national cemetery on June 15, 1864, by order of Secretary of War Edwin Stanton. The original cemetery was 200 acres, and has since grown to 639 acres (as of early 2020). Arlington became a segregated cemetery, just like all national cemeteries at the time, and remained segregated by race and rank until 1948, when President Harry S. Truman desegregated the military. The primary burial ground for white Civil War soldiers became Section 13. Meanwhile, Section 27 became the area for African American soldiers and freed people; more than 3,800 freed African Americans are buried in Section 27.
Initially, being buried at a national cemetery was not considered an honor, but it ensured that service members whose families could not afford to bring them home for a funeral were given a proper burial. The first official "Decoration Day," later renamed Memorial Day, was held at Arlington National Cemetery on May 30, 1868. This tradition continues today, and is one reason why Arlington transformed from being one of many national cemeteries into the premier national military cemetery. The event was so popular that in 1873, an amphitheater was constructed to hold the official ceremonies. (Renamed the James Tanner Amphitheater, it recently reopened after restoration.) Beginning in the late 1870s, high-ranking veterans began requesting burial in the Officers' Sections (Sections 1, 2 and 3).
In 1899, the U.S. government began repatriating, at its own expense, service members who died overseas in the Spanish-American War. Arlington National Cemetery consequently expanded to include Sections 21, 22 and 24. In 1900, Congress authorized a designated section for Confederate soldiers, at a time when the nation was trying to reconcile after the Civil War. The Confederate section (Section 16) contains the graves of 482 veterans and spouses. After World War I, more than 2,000 U.S. service members were repatriated to Arlington National Cemetery, and interred in Sections 18 and 19.
The Tomb of the Unknown Soldier was dedicated on November 11, 1921, with interment of the Unknown from World War I. President William Howard Taft was buried at Arlington in 1930, making him one of only two presidents buried here. President John F. Kennedy became the second on November 25, 1963. For years after President Kennedy's televised state funeral, the number of requests for burial at Arlington grew exponentially. By the 1980s, to prevent the cemetery from running out of space, the U.S. government authorized expansion and established new regulations to restrict eligibility for in-ground burial. Columbarium courts were also created for above-ground inurnments.
Today, approximately 400,000 veterans and their eligible dependents are buried at Arlington National Cemetery. Service members from every one of America's major wars, from the Revolutionary War to today's conflicts, are interred at ANC. As a result, the history of our nation is reflected on the grounds of the cemetery.