United Kingdom and the world
---
Roll of Honour - Moretonhampstead, Devon, England
---
1914 - 1918 and 1939 - 1945

The Roll of Honour can be found in St. Andrew's church.
Remember the men of this parish who in the Great War 1914 - 1918

In hor signo vinces
(In this sign thou shall conquer)

endured all and gave all - live thou for England they for England died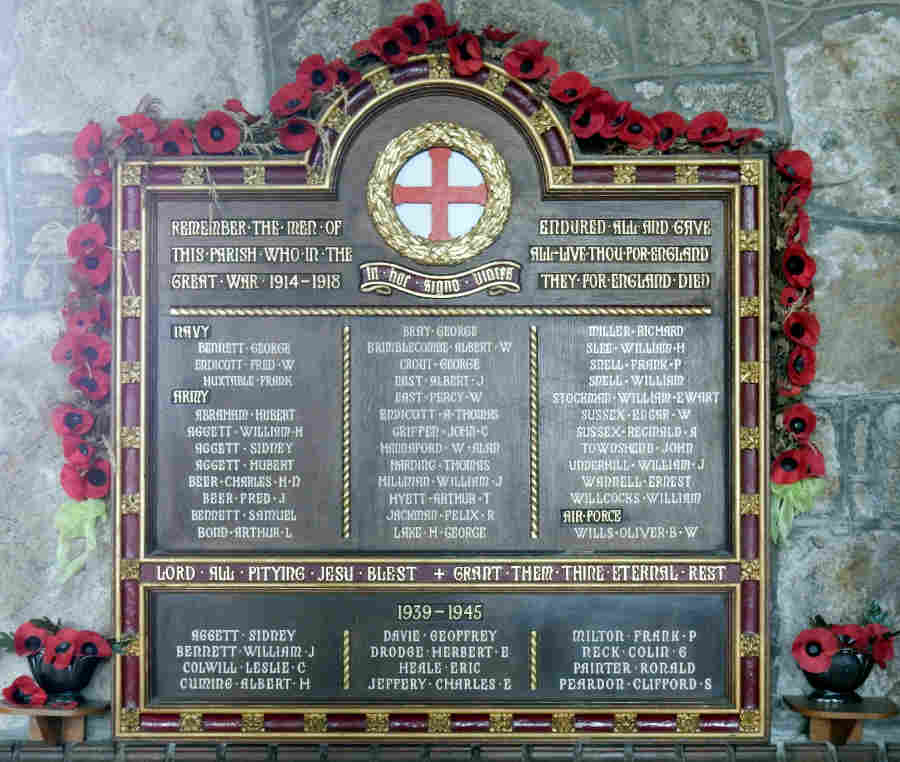 1914 - 1918
Navy
Bennett, George
Endicott, Fred W.
Huxtable, Frank

Army
Abraham, Hubert
Aggett, William H.
Aggett, Sidney
Aggett, Hubert
Beer, Charles H. N.
Beer, Fred J.
Bennett, Samuel
Bond, Arthur L.
Bray, George
Brimblecombe, Albert W.
Crout, George
East, Albert J.
East, Percy W.
Endicott, A. Thomas
Griffen, John C.
Hannaford, W. Alan
Harding, Thomas
Hillman, William J.
Hyett, Arthur T.
Jackman, Felix R.
Lake, H. George
Miller, Richard
Slee, William H.
Snell, Frank P.
Snell, William
Stockman, William Ewart
Sussex, Edgar W.
Sussex, Reginald A.
Townshend, John
Underhill, William J.
Wannell, Ernest
Willcocks, William

Air Force
Wills, Oliver B. W.
Lord all pitying Jesu blest + Grant them eternal rest
1939 - 1945
Aggett, Sidney
Bennett, William J.
Colwill, Leslie C.
Cuming, Albert H.
Davie, Geoffrey
Drodge, Herbert E.
Heale, Eric
Jeffery, Charles E.
Milton, Frank P.
Neck, Colin G.
Painter, Ronald
Peardon, Clifford S.
All pictures
Picture owner: andifox
Source: War Memorials Online
Resources available on War Memorials Online may be used in
non-commercial settings for personal, professional, educational or research purposes.
---
This page is dedicated to the 10 million victims of World War I and 60 million victims of World War II.
We should always remember the immense grief and loss each war brought to the world.
---
Click the pictures for a larger size.
Use your backward button of your browser to come back to this page.

Thank you.
© Lost Ancestors 2022